The Rebus Guide to Publishing Open Textbooks (So Far)
Private
OER Publishing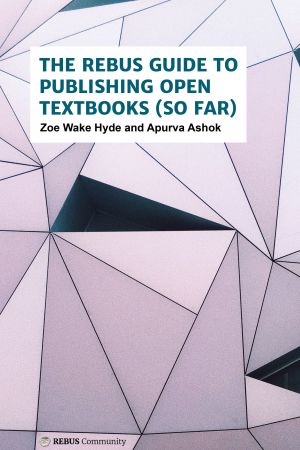 This book has been released and is ready for you to adopt, adapt and provide feedback on.
Let the team know how you're using it.
About this Project
The Rebus Guide to Publishing Open Textbooks (So Far) is for anyone thinking about starting an open textbook project. It starts at the beginning of the process, with chapters on project scoping and building a team, and then moves on to content creation and editing, getting feedback and reviews, coordinating release and adoptions, and sustaining the book's community.
This project is an effort to comprehensively document the Rebus Community model for collaboratively publishing open textbooks and related content, developed through hands-on work with over 30 open textbook projects. It is the result of innumerable conversations and exchanges, and represents a wide range of collective knowledge and experience. The project was initiated in-house, but as it is used by the community we expect it to evolve and grow in response to feedback.
Through forum discussions, new writers' and editors' contributions, and ongoing reflection and revision, the Guide will reflect our collective and changing perspectives on how and why we make open textbooks. Join the project and follow its progress! And as you or people you know test the Guide in your next OER project, leave feedback on the Rebus Forum, to help re-imagine how our ecosystem makes textbooks.

Recognition
Anyone who contributes feedback or ideas will be thanked profusely and credited in the final text. Anyone taking a more substantial role will also be credited with an official title as author, reviewer, editor, etc.
Below is a current outline/table of contents for this project.
Discussion Threads +
Activity Discussions
Planning/writing/editing the next parts of the content

Seeking reviewers to read through working versions of the book & provide feedback

Looking for anyone currently running a project willing to give the Guide a test drive